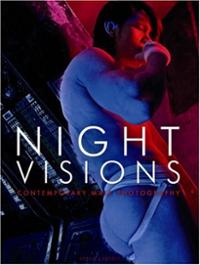 My third anthology project with other photographers.
NIGHT VISIONS
Photo Book, Pages: 320, Size: 17 x 22,5 cm / 7 x 9, Format: Hardcover, Colour: full olour and b/w, ISBN 978-3-86187-892-6, June 2008,
VISIONS – CONTOMPORARY MALE PHOTOGRAPHY was just the beginning! The success of the first photographic anthology was huge! It strengthened us to continue the concept.
We now proudly announce the publication of a new collection of male erotic photography, an anthology titled: NIGHT VISIONS – CONTEMPORARY MALE PHOTOGRAPHY. NIGHT VISIONS is a high-quality 320-paged book of contemporary male photography that combines well-known artists with plenty of promising newcomers creating a patchwork of Bruno Gmünder discovered artists such as Patrick Mettraux, David Hilliard, Eric Scot and Neil Malcolm Roberts with famous artists like Kobi Israel, Justin Monroe, Anthony Gayton and Eric Schwabel. Altogether over 60 artists contributed this project.
Readers of NIGHT VISIONS are guided by an overall theme in the anthology book. The title says it all. The theme to be in this anthology book is night. A wide variety of styles are represented and taken together to provide a good overview of today's loot of contemporary male photography. Whether romantic or fetish, sex or tenderness, staged or street photography – the over-arching theme always is the night.
This collection is a must for anyone interested in photography!
---
Press Clippings
"NIGHT VISIONS makes an excellent gift for someone who has everything; it's also a fantastic introduction to a wide array of photographers of the male form, and an excellent reference if you're shopping around for coffee table photography books."
EDGE Boston
---
NIGHT VISIONS
Fotobuch, Seiten: 320, Format: 17 x 22,5 cm / 7 x 9, Umschlag: Hardcover, Druck: 4-farbig und s/w, ISBN 978-3-86187-892-6, June 2008,
VISIONS – Contemporary Male Photography aus dem Jahr 2006 war erst der Anfang! Der überwältigende Erfolg dieser ersten Fotoanthologie aus dem Hause Bruno Gmünder hat uns ermutigt, dieses Konzept weiterzuführen.
Mit der neuen Fotoanthologie NIGHT VISIONS geben wir erneut über 60 Fotografen die Chance, ihr Werk einem großen Publikum weltweit vorzustellen. Die Höhepunkte zeitgenössischer Männerfotografie versammeln sich auf 320 Seiten, darunter bekannte Fotografen und vielversprechende neue Talente. Aufsteigende Sterne wie Patrick Mettraux, David Hilliard, Neil Malcolm Roberts und Eric Scot behaupten sich neben inzwischen modernen Klassikern wie Kobi Israel, Eric Schwabel, Justin Monroe oder Anthony Gayton.
Verbindendes Element ist diesmal die Nacht mit all ihren Facetten. Ob Romantik oder Fetisch, Sex oder Zärtlichkeit, Inszenierung oder street-photography, alle Stile sind vertreten und verschaffen einen tiefen Einblick in die zeitgenössische schwule Kunst.
Für alle fotografisch Interessierten ein Muss!
---
Pressezitate
"NIGHT VISIONS ist nicht nur ein erstklassiges Geschenk für jemanden, der schon alles hat, sondern außerdem noch eine fantastische Einführung in die Männerfotografie."
EDGE Boston
---
"…als würde man sich zweihundert Bücher auf einmal kaufen. […] Man findet bei jedem erneuten Angucken etwas Neues."
Schwulissimo